Identify location without GPS
Do you remember when exactly the smartphone appeared in your hand? When did it first suggest a route from the "Current location" point? And by the way , where has your car GPS- navigator gone?
We suddenly found that mobile networks have encroached the whole city, and Wi-Fi is no more a technology of a fantastic future. We are "in the matrix," and to find, for example, a person with a mobile phone we just need to solve a system of linear equations.
Base transceiver stations cover the city and the territory outside. That's why while your device remains in the coverage area of at least one BTS, you are "in the matrix." Unique Cell ID enables to determine the device location with an accuracy from a few hundred meters to several kilometers. Now take the coordinates of two or three transceiver stations and make a system of equations.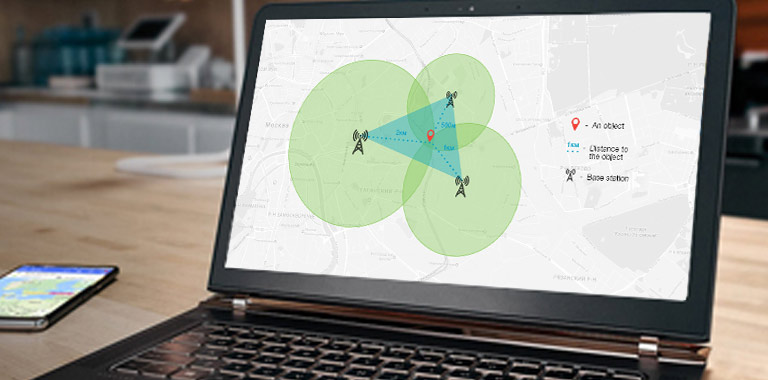 A moment - and the FBI will find you.
In a similar way you can identify the location of the "subscriber" using the data of WiFi networks. Anyway your phone is constantly looking for an opportunity to connect to a fast wireless Internet. Raise your head! How many hot spots are there in the building nearby? Let's take the MAC-address database and process coordinates of the hot spots with a special program. The more intersections, the more accurately the location of your mobile device will be determined.
Where from do Google Maps and similar services get coordinates of base transceiver stations and WiFi access points?
Users themselves give applications on their mobile devices the right to use information about their current location and reference points.
It happens when you accept the terms of the license agreement without reading it, for example, while installing another useful application from Google Play.
In the screenshots below, we showed how it looks when using our GPS tracking application
The phone or tablet takes the coordinates determined by the GPS module (if available), and sends it to a special address, in particular, to Google servers. The more devices and access points - the more detailed data will be received and used in the future for navigation without GPS.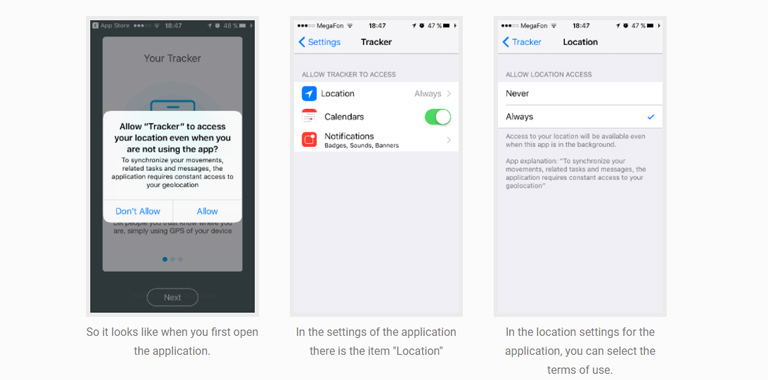 A combination of position tracking types
Modern tracking mobile applications, for example, sports apps, use a combination of all the three tracking methods. It ensures uninterruptable operation of an application and obtaining the most reliable data. Switching between the location methods is automated.
Naturally tracking together with such useful features as telemetry etc. becomes more and more popular in business, industries and transports. The more options to control, the more efficiency can be got in every sphere of business and social activity. That's how technical progress constantly improves the quality of life "in the matrix."